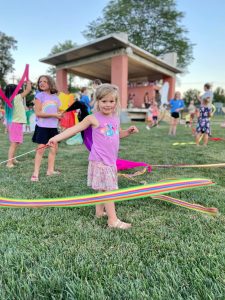 We are delighted to present the lineup for our 2023 FREE Summer Concert Series All concerts begin at 7:00pm and end at around 9:00pm and take place at Perkasie's Amphitheater in Lenape Park.
Wednesday June 21st: The Wonton Soups: A blend of improvisational jazz, musical theater, marching band. A unique sound influenced by ska, funk, swing, punk and big band.
Wednesday June 28th: no concert: Perkasie Fire Department Carnival
Wednesday July 5th: Barefoot Bobby and the Breakers: Local favorites bring classic Rock, Country, Trop Rock, Blues and Motown hits in an energetic, versatile, and entertaining show.
Wednesday July 12th: River of Dreams: A faithful recreation of the music of Billy Joel. This concert is presented by QNB Bank. 
Friday July 14th: Hatter: Blending influences from rock and roll, blues, alternative, and pop rock in a lively rock n roll concert experience.
Wednesday July19th: Ferdinand the Bull: An indie-folk collective rooted in big hooks, carefully crafted songwriting, and a dynamic stage show.
Wednesday July 26th: Elle and The John doe Band: Rhythm & Blues meets pop with a dash of sparkle.
Wednesday August 2nd:  Wonderland: Celebrating the 70s & 80s – the golden ages of pop, funk, and rock and roll.
Wednesday August 9th:  Rootsetters:  Reggae/Dub band making waves on the east coast scene.
Wednesday August 23rd:  Mama's Black Sheep:  Singer songwriter trio, bringing a blend of hit worthy originals and covers with a unique spin. Country, pop, soul, and blues
Friday August 25th: CANCELLED due to poor weather forecast. Bucks County Folk Song Society: A collection of artists performing a wide range of familiar and original acoustic music. Expect folk, country, bluegrass, and gospel.
We are grateful to the sponsors of the 2023 Free Summer Concert Series.
ENTERTAINMENT: We welcome inquiries from local non-profits who may wish to exhibit and bring family activities. Please contact events@perkasieborough.org for more information.
Perkasie's Summer Concert Series ran at our new amphitheater in Lenape Park for the first time in 2022. Perkasie's new amphitheater is made possible by the generosity of Olcastle PreCast.
Questions about this event to events@perkasieborough.org.