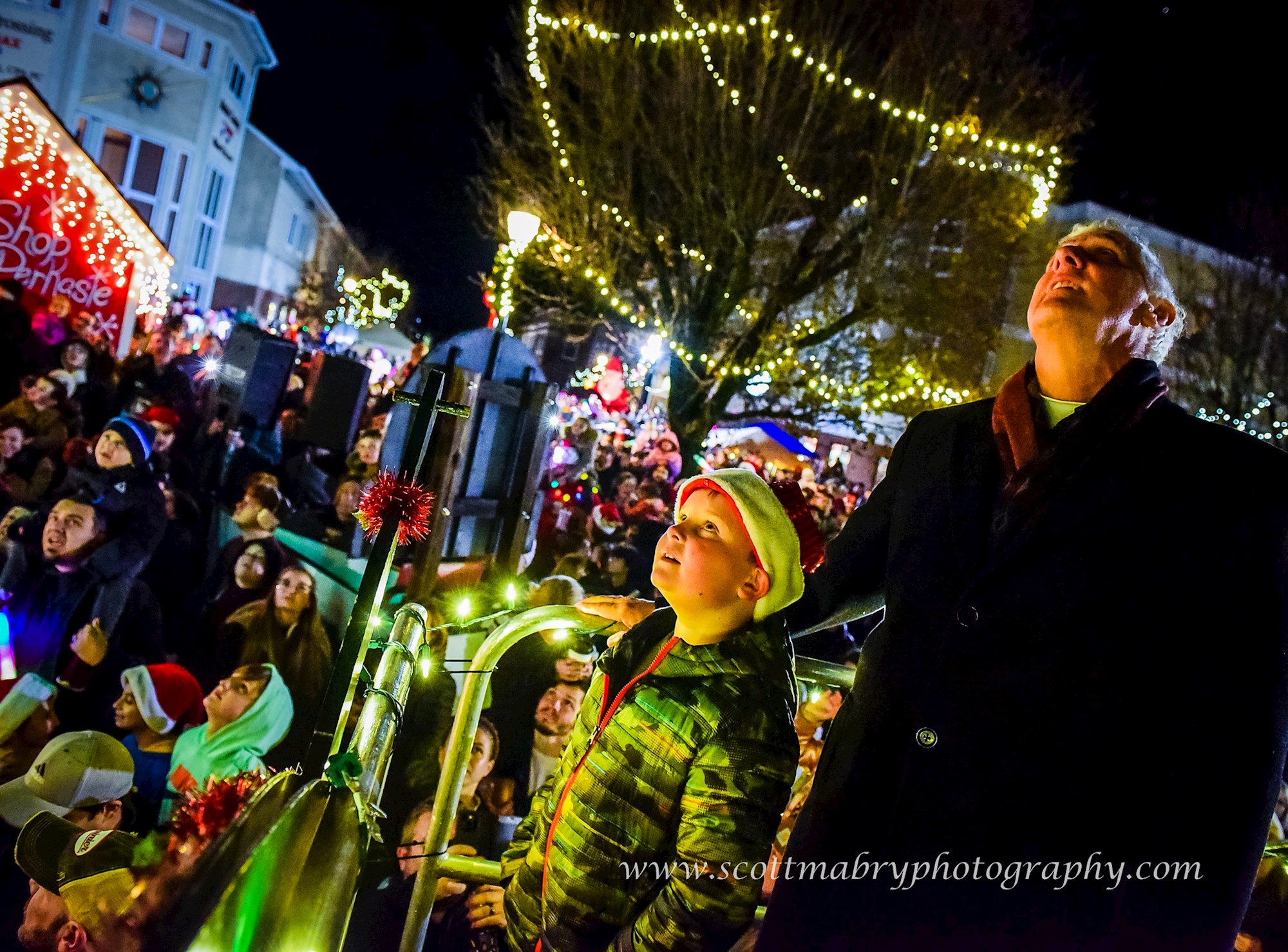 America's Oldest Tree Lighting Ceremony is scheduled for 5pm-8pm on Saturday December 2nd.  
Perkasie's ceremony began in 1909 and is now in its 115th year. It was officially recognized as the oldest in the US in 2015, when it was read into the Congressional Record by Congressman Mike Fitzpatrick.
Families can expect a traditional evening out, with Holiday music, food and fun.  Santa Claus and Mrs. Claus will arrive on a Perkasie Electric Truck to light the Christmas tree at 7pm and one lucky child will be chosen to climb on the stage to help Santa light the tree; bring a non-perishable food item for Pennridge FISH to enter the drawing. Drawing at 6:30pm. SANTA ARRIVES AT 7:00PM
Parking Restrictions and Road Closures will be in effect in the town center from 2:00pm onwards.
A summary of event attractions follows. Check out our Facebook event page for changing information. 
AROUND THE EVENT / 5:00pm – 8:00pm
Antique Wagon Rides at 8th & Market
Fire Dancer performs at 5:45pm & 7:20pm at 6th & Market
Pennridge Jazz Band at 6th & Market
Wandering carolers by Ring the Rafters
Meet Buddy the Elf
Alpaca in the Shelly's lot
Live store window dioramas on N. 7th St
Shannon Carney Dance Academy Perform excerpts from The Nutcracker at 5:30pm & 6:30pm
Local eateries open and food trucks visiting
ENTERTAINMENT TENT PROGRAM
5:15pm:                Former Mayor: T'was the night Before Christmas
5:30pm:                Pennridge South Middle School Choir
5:45pm:                Pennridge Central Middle School Harmony Group
6:00pm:                Mike Greer & Co. live music
6:30pm:                PTIA draw raffle for child to switch on the lights
7:15pm:                Mike Greer & Co. live music
LAST CALL for alcohol sales at 7:45pm
ROAD CLOSURES & PARKING RESTRICTIONS: Town center roads will be closed and parking restrictions in effect. 
The Perkasie Historical Society Museum will be open with a "Christmas in Perkasie" display on W. Walnut St. 4pm-7pm on Saturday December 2nd. "The Polar Express" Conductor reads story times at 4pm & 5pm.
Perkasie's Historic Carousel will be open for rides with Santa. 12pm-5pm on Saturday December 2nd.
Perkasie's Nostalgic Holiday Train Display will be open from 12:00pm – 8:00pm on Friday 12/1 AND Saturday 12/2 at the Perkasie Electric Company, 120 N 7th St. This event is presented by the Perkasie Model Railroad Club.
Christmas Café will be open from 4:30pm-6:30pm at Trinity Lutheran Church.
Nativity Photo Op & treats from 5pm-8pm at St Stephen's Church
SPONSORS: We are grateful to the organizations that make America's Tree Lighting possible.
Major Sponsors: Adams Orthodontics, American Heritage Federal Credit Union, Gilmore & Associates, The Gutter Guys, Penn Community Bank, Shelly's Design Center, A&T Chevrolet-Subaru
Carriage Sponsors: Begley Carlin, Mandio, Laurel Abstract, Grim Biehn & Thatcher
Tent & Entertainment Sponsors: Black Cat Collective, Grace Inspired Ministries, Rams Pint House, Dunkin' Perkasie, Perkasie Dental Loft, QNB Bank, Sherwin Williams (Chalfont), Three Tower Audio
General Sponsors: JC Steinly, Landis Supermarket, Thrivent Financial, Upper Bucks Free Press, Weber Kracht & Chellew
VOLUNTEERS: we couldn't run an event like this without our wonderful volunteers. Thank you! Contact events@perkasieborough.org to get involved with Perkasie's wonderful events.
In 2020, the global COVID pandemic led to Borough staff working with local businesses to create and stream a virtual Tree Lighting event. The video of 2020's virtual Tree Lighting can be enjoyed here:  special edition of "Perkasie LIVE" . The show was hosted by Todd Hurley and Joe Weichel and was produced by Perkasie's PBR Productions.